National News
59 NGOs collapse after Museveni directs suspension of Uganda's top funder DGF.
President Museveni has ordered effective suspension of duties and services of the Democratic Governance Facility (DGF), the biggest donor funding Non- Governmental Organization in Uganda over what was termed as Financing subversive activities.
Through a letter on 2 January ,2021 , the President says he wants to know why and how the Ministry of Finance authorized a £100 million (shs500.8 billion) fund to operate illegally in the country without the involvement of cabinet.
"It has come to my attention that the Ministry of Finance under the hand of the Permanent Secretary, irregularly and unilaterally authorized a £100 million fund, known as the Democratic Governance Facility, to be operated exclusively by a foreign mission in Uganda. Unlike prior grant arrangements like the Democratic Governance and Accountability project in which there was transparency and representations the Government of Uganda has no say or oversight on how the Democratic Governance Facility is administered in Uganda,"
read Museveni's letter to Minister Matia Kasaija.
However, Museveni says he has discovered that although the Ministry of Finance tried to get a representative on DGF's board , these were arrogantly rebuffed by the foreign mission after being reminded that the exclusive management of the fund lies with them(DGF) and oversight is by the foreign funders exclusively.
He says its really baffling how the funds under Ministry of Finance Permanent Secretary Keith Muhakanizi was permitted to operate despite not meeting all the necessary conditions. Museveni added that this is unfair to the government.
"How is it possible that the Ugandans whose affairs are being dealt with here, can only be spectators in the management of their own affairs? This is not the financing of a private business but the funding of state and non-state actors to achieve the political objectives of the funders in Uganda. How and why did the Ministry finance, unilaterally make such a major decision with far-reaching consequences, let alone, one whose effect is to surrender the sovereignty of the people of Uganda to foreigners? Was this a result of subversion, corruption or criminal negligence or all of these? Why wasn't the Cabinet and I consulted,"
wondered Museveni,
"I am therefore directing you to immediately, suspend the activities of this fund, until the cabinet has fully reviewed this matter and a new governance structure in which the elected representatives of the people of Uganda have appropriate oversight, has been put in place and approved by me."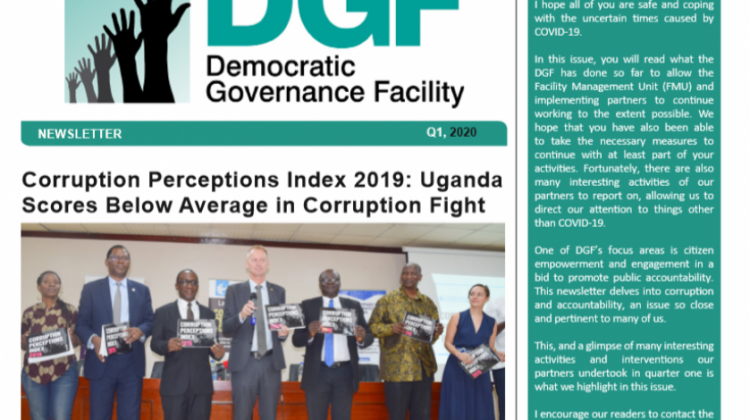 List of Non-governmental Organizations likely to be affected by suspension of DGF in Uganda.
ActionAid International-Uganda (AAIU)
Advocates Coalition for Development and Environment (Acode)
African Centre for Media Excellence (ACME)
Africa Freedom of Information Centre (AFIC)
African Centre for Energy and Mineral Policy (ACEMP)
African Centre for Trade and Development (ACTADE)
African Centre for Treatment & Rehabilitation of Torture Victims (ACTV)
African Leadership Institute (AFLI)
African Youth Initiative Network (AYINET)
Akina Mama wa Afrika (AMwA)
Alliance for Finance Monitoring (ACFIM)
Alliance of Mayors and Municipal Leaders' Initiative for Community Action on AIDS at the Local Level (AMICAALL)
Amuria District Development Agency (ADDA)
Anti-Corruption Coalition Uganda (ACCU)
Center for Governance and Economic Development (CEGED)
Centre for Basic Research (CBR)
Centre for Women in Governance (CEWIGO)
Civil Society Budget Advocacy Group (CSBAG)
Community Driven Network Uganda (CODNET)
Community Integrated Development Initiative (CIDI)
Ecological Christian Organization (ECO)
Food Rights Alliance (FRA)
Global Rights Alert (GRA)
Gulu Women Economic Development and Globalisation (GWED-G)
Human Rights Network for Journalists-Uganda (HRNJ-U)
Initiative for Social and Economic Rights (ISER)
International Center for Transitional Justice (ICTJ)
Justice Defenders
Judiciary (JLOS)
Kabarole Research & Resource Centre (KRC)
Kapchorwa Civil Society Organisation Alliance (KACSOA)
Kind Initiative for Development (KIND-UG)
Kituo Cha Katiba: Eastern Africa Centre for Constitutional Development (KcK)
Legal Aid Service Providers Network (LASPNET)
Maendeleo ya Jamii (MYJ)
Muslim Centre for Justice Law (MCJL)
National Coalition for Human Rights Defenders Uganda (NCHRD-U)
Netherlands Institute for Multiparty Democracy Uganda (NIMD)
Penal Reform International (PRI)
Platform for Labour Action (PLA)
Restless Development Uganda (RD)
Rwenzori Anti-Corruption Coalition (RAC)
Rwenzori Forum for Peace and Justice (RFPJ)
Teso Anti-Corruption Coalition (TAC)
Teso Religious Leaders Efforts for Peace and Reconciliation (TERELEPAR)
The Apac Anti-Corruption Coalition (TAACC)
The Human Rights Centre Uganda (HRCU)
The Women's International Peace Centre (WIPC)
Transparency International Uganda (TIU)
Uganda Association of Women Lawyers (FIDA-UGANDA)
Uganda Debt Network (UDN)
Uganda Joint Christian Council (UJCC)
Uganda Media Women's Association (UMWA)
Uganda National NGO Forum (UNNGOF)
Uganda Project Implementation & Management Centre (UPIMAC)
Uganda Radio Network (URN)
Uganda Women's Network (UWONET)
Westminister Foundation For Democracy (WFD)
Wizarts Foundation (Wizart)
World Voices Uganda (WVU)